【NewsBuddy】「打假波」Hea踢 半隊愉園被捕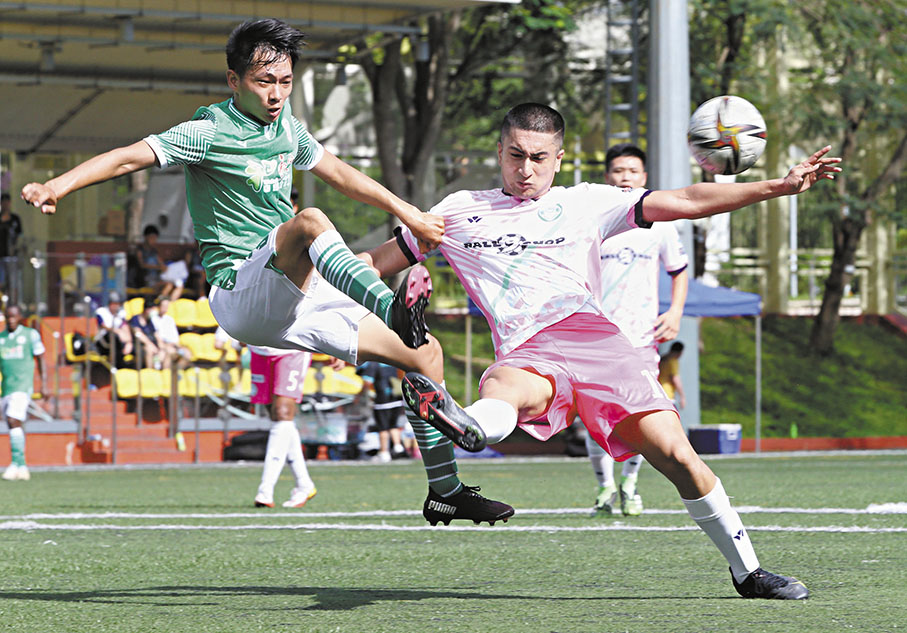 【原文】下文摘錄自2023年5月17日香港《文匯報》︰
  香港廉政公署經過一年深入調查,於5月15日展開代號「碧草」行動,偵破本港球壇最大宗外圍賭博「打假波」貪污集團。廉署是次出動近百人拘捕23人,包括本地老牌球隊愉園的教練及11名球員。調查發現,外圍波賭博集團向涉案球員和教練行賄,在2022/2023年度香港甲組聯賽中「打假波」。涉案球員按指示「Hea踢(消極作賽)」、「放水」,以配合預設的賽果,每場賽事最高可獲萬元酬金,球員同時落重注買外圍波冷門和高賠率賽事獲厚利。廉署表示案件調查仍在進行中,不排除有更多人被捕。
  被捕的22男1女年齡介乎25歲至36歲,據悉包括愉園主教練趙覺超,而被捕的11名球員佔球隊人數一半,其餘被捕人包括外圍賭波集團主腦、骨幹和負責收受賭注的「艇仔」。據悉,該犯罪集團沒有黑幫背景。
  廉政公署執行處首席調查主任卓智欣公布案情時表示,廉署於一年前接獲涉及一名球員的貪污投訴,調查中發現有關球員所屬的球隊中,有近半球員涉參與集體「打假波」,隨即展開深入調查及情報搜集,並密切注意涉事球隊的表現。
  廉署發現,該球隊在已進行的26場賽事中,分別有13場輸波及5場和波,其中多場賽事懷疑出現異常失誤,相信有部分球員採用消極作賽「Hea踢」,或「放水」輸波,以異常表現輸給弱隊,以達至特定預設賽果。
  廉署總調查主任梁頴行表示,參與「打假波」的球員及教練,被「打假波」貪污集團出錢收買。賽前,球員會接觸教練,只要配合達到預計的賽果,每場每名參與「打假波」的球員可以按表現「論功行賞」,獲得9,000元至1萬元報酬,而球員亦會在「打假波」的同時,透過外圍投注預計的冷門賽果贏取巨額派彩,從而雙重獲利。
  由於外圍賭波賠率會隨着賽事進展而出現變化,集團會派「艇仔」入場觀看,其間和教練、球員互相用暗號溝通更改戰術,包括做出誇張的肢體動作,例如拉高或拉低襪,或戴上及除下衛衣帽子,以指示球員作出處理,從而操縱比數。
  Half team of Local Football Club Happy Valley arrested over match-fixing
  【譯文】The Hong Kong Independent Commission Against Corruption (ICAC) launched an operation code-named "Emerald Green" on May 15 after a year of in-depth investigation to uncover the largest corruption syndicate in Hong Kong's football industry for illegal gambling "match-fixing". The ICAC deployed nearly 100 officers to arrest 23 people, including the coach and 11 local veteran football team Happy Valley players. The investigation found that the illegal gambling syndicate offered bribes to the players and coaches involved to "play match-fixing" in the 2022/2023 Hong Kong First Division League. The players were instructed to "play below their capabilities" and "goof around" to match the predetermined results and were paid up to $10,000 per game, while the players also placed heavy bets on the cold bets and high odds games of the illegal games to make huge profits. The ICAC said the case is still under investigation, and further arrests might be made.
  The 22 men and one woman arrested range in age from 25 to 36 and are said to include Happy Valley head coach Chiu Kok Chiu, while the 11 players arrested make up half of the team. The rest of those arrested include the head of the bookmaking syndicate, the backbone and the "boatman" responsible for taking bets. It is reported that the criminal group does not have a triad background.
  The ICAC's Chief Investigation Officer, Ms Kate Cheuk, said that the ICAC received a corruption complaint involving a player a year ago. During the investigation, it was discovered that nearly half of the players of the team to which the player belonged were engaged in collective "soccer match-fixing" and immediately started an in-depth investigation and intelligence gathering and paid close attention to the performance of the team involved.
  The ICAC found that the team had lost 13 matches and drawn five matches out of the 26 games played, and there were suspected abnormal mistakes in many of the matches. It is believed that some of the players "played below their capabilities" or "goofed around", losing to the weaker team with abnormal performance to achieve a specific predetermined result.
  ICAC Chief Investigator Allen Leung said that the players and coaches involved in the "match-fixing" were paid by the "match-fixing" corruption syndicate. Before the match, the players would contact the coaches. As long as they cooperated to achieve the predetermined outcome, each player who participated in the "match-fixing" would be rewarded with $9,000 to $10,000 based on their performance. The players would win huge payouts by placing outside bets on predetermined cold outcomes while "match-fixing", thus making double profits.
  As the odds on the outside bets change as the game progresses, the syndicate sends "intermediaries" in to watch the game and communicate with the coaches and players to change tactics, including making exaggerated body movements, such as pulling up or down socks, or putting on and taking off hats, to instruct the players to handle the game and manipulate the odds.◆ 琬琰